by
Clovis WHITFIELD
ITALIAN TRANSLATION
by
Consuelo LOLLOBRIGIDA
Up till now
Terbrugghen
studies have been frustrated by the absence of any concrete evidence of his Italian stay. This has meant that his career as it is represented by known works starts well after his return to
Utrecht,
and indeed even those few pictures from earlier than 1620, even ones that bear signatures and dates (from 1616 onwards) have been doubted because of their unfamiliar character. This is despite the consideration that his art is universally acknowledged to be based on the experience he had in Italy, and indeed he was one of the major representatives of a taste that is recognised as
Caravaggesque
. But there is only a single documentary reference to his presence in Italy, in 1614 when he was on his return to
Holland
, and none anywhere else there, even in
Rome
where the style he represents seems to be grounded, or
Naples
, where he said by one of his biographers (
Houbraken)
to have gone. The same author described him as one who was given to travelling, and even suggested that he made a return trip to Italy. But there are no references to his presence in
Rome
within the famed
Stati d'Anime
of the Roman parishes: this may in part be to the probability that he was Protestant and so somehow avoided being counted in this census, which was after all to ensure that parishioners had received communion
[1]
. In some ways he has been seen as the successor to
Baburen
(six years younger), who returned to
Utrecht
after him and whose career was cut short by his early death in 1624.
Sandrart,
who though he only reached Italy in 1629 long after
Terbrugghen
had left, was in a position to recognise his talents even in the
Giustiniani collection
he curated in
Rome
, did not understand him and gave him short shrift in the
Teutsche Akademie
(1675), prompting the artist's son
Richard
to try to redress the balance through his biography (which is lost).
Sandrart
at least recognised that he followed the Caravaggist tendency for painting from life "In line with his inclination to harbour profound but melancholic thoughts he followed nature and its unpleasant defects in his works very well, but disagreeably. Similarly an unkind fate dogged him until the grave, to his great misfortune"
[2]
, but he does not seem to have realised that there were paintings by him in the collection he looked after. The two new works that can confidently be confirmed as his do however show the central role he played in the phase of Caravaggism that began around 1612, and should cast light on his background with
Saraceni
and the important role a single patron played in the pursuit of a new naturalism in the wake of
Caravaggio,
whose genius he appreciated from the very start. One is a major composition done for the most important patron of Italian Caravaggesque painting, the other is accompanied by the first document to be uncovered about
Terbrugghen
in Italy since 1846. They represent two sides of the naturalism and colour of the
Giustiniani's
artistic hero, the colourful side maintained largely by his surviving friend,
Carlo Saraceni,
and the other the of that tendency that he had, in
Bellori'
s words, to 'ingagliardire gli oscuri'. Both were involved with the passion for painting from life that coloured several generations of Roman painting. This patronage has never been acknowledged, because of the association of
Vincenzo Giustiniani
's ownership of the collection he looked after for nearly two decades with the commissioning of the works themselves, that has long disguised the real input his brother
Cardinal Benedetto
had both for the direct employment of
Caravaggio
himself, and of the mainly foreign artists who worked for him in the second decade of the seventeenth century.
The difficulties in Terbrugghen are compounded by the consideration that some of the most '
Caravaggesque'
paintings are in fact the latest, painted in
Holland
where he (and
Baburen
) were striving to satisfy the curiosity many had for the legendary work of the Italian painter.
Terbruggen
was after
Van Mander
's informant
Floris van Dijck
, the first Northern painter to return from
Rome
with some impression of the legendary illusionism what they had heard of, and it was mainly satisfied with the half-length subjects of musicians and drinkers rather than more ambitious figure subjects. In
Holland
there was also more of a habit of signing pictures, (
Ben Nicolson,
who wrote the first monograph on him in 1958, assumed that all his paintings are signed) while in Italy it was far less common - work was done in the
Netherlands
for a more bourgeois clientèle that was getting to appreciate the virtues of representation more than just their religious meaning. And the impression of
Caravaggio
was an approximation, a step in the passage to the optical qualities of
Vermeer,
because almost none of the early followers understood that aspect of
Caravaggio
's revolution. It was enough that Terbrugghen could embark on ambitious imagery and extraordinary appreciation of values of colour and light, liberated from the lengthy apprenticeship of conventional training. The document giving details of his passage through Milan in 1614, on his way home, has been perhaps misconstrued in fostering the idea that he was as conversant with Northern Italian art, of people like Fetti and Bassano, as with the Roman scene where he seems to have left so few documentary traces. He was according to his biographers, a traveller, but whether he went to Naples (
Houbraken
has him paint the high altar of the
Groote Kerke
(
Duomo
?) there with an unsigned altarpiece, or indeed made a second trip to Italy, is controversial. Nonetheless Rome seems his artistic background, and while
Louis Finson
was happier trying (in
Naples
) to emulate his friend
Caravaggio
and sell his pictures as his dealer, Terbrugghen had to compete with local talent and not simply do copies of what were becoming famous works. The two versions he did of the
Calling of St Matthew
are radically different from each other, as they are also from the famous work in
San Luigi dei Francesi
- but they are evidently a response to it and the need to convey an idea of what
Caravaggio
was about. In practice
Terbrugghen
profited from an innate talent that was not shackled by learning by copying, although he learnt enough of their technique, from his beginnings in Utrecht and his association with other young artists in
Rome
, to be able to paraphrase new imagery as well as use the skeleton of much older designs going back to
Lucas van Leyden
and
Dürer
.
The recently published
Fortune Teller
signed and dated <
Enrico Ter <Bruggº < Flamº < … AD MDCXII
, and exhibited in the
Palazzo Venezia
show
Roma al tempo di Caravaggio
in 2011 is an important first window on the artist's activity in Italy, where he arrived probably in 1608 and left in the summer of 1614. It is the first documentary evidence of his presence there to come to light since 1846, and is of great interest because it opens a new window on the first half of the artist's career. But it is as well first to discuss two other outstanding paintings we can now see he did at the same period.
The presence of two paintings by '
Enrico d'Anversa'
in the inventory that
Marchese Vincenzo Giustiniani
drew up in the 1630s points to the identification of
Terbrugghen
as the author of the two large upright paintings described in the 1638 inventory under Nos. 150 and 151, hanging in the fifth
Sala Grande
'
Uno con L"Historia di S. Pietro e L'Ancilla che si scalda al fuoco di notte L'altro con Christo ligato alla Colonna, e diverse altre figure grandi dal naturale dipinti in tela alto palmi 13 largo 9 [3] in circa senza cornice si crede di mano d'Enrico d'Anversa.
'. One of these was exhibited at the recent exhibition
Gherardo delle Notti Florence,
Uffizi,
February to May 2015, although the origin of the
Denial of St Peter
(No. 5, a large canvas 288 by 190, now in the Spier collection, London) was not realised at the time. It is an intrinsically Caravaggesque theme, and
Gianni Papi
rightly related it to the horizontal version of the theme by
Terbrugghen
that is in the
Art Institute
in
Chicago
(132,5 by 178 cm)
[4]
. The dimensions coincide, 13 Roman palmi is roughly 290 cms, and the 8 palmi
incirca
of the width is compatible with the 180cm size today. It had appeared in a sale in
Paris,
Tajan
, in 2007, with the attribution to
Terbrugghen
; it had come from a collection near Bordeaux, but its origins were not documented with any useful history, and the painting was not supported by the opinion of the Dutch experts on the artist, nor by
Wayne Franits,
the author of the recent monograph on the artist who took over the project from the late
Leonard Slatkes
. In reality the subject is very much associated with
Terbrugghen
, and there are other versions, including the fragment with the maidservant at Stourhead, National Trust, and another composition, but reversed ,more closely dependent on
Dürer
in the
Shipley Art Gallery
,
Gateshead
(another version in
Lublin
, Poland). The
Chicago
painting has been thought of as late because of its similarity in design to the
Liberation of St Peter
in
Schwerin
[5]
, a work that is signed and dated 1629. But the existence of the
Giustiniani
painting at the start of the known works in Italy must prompt a reconsideration of such a stylistic dating, for it indicates a flexibility of performance to see such a masterpiece at this stage of his career. The subject paintings by Terbrugghen resist firm dating to the late decade of his career, and the existence of the two
Denials
ought to demonstrate his ability to work in different modes in Italy and in the
Netherlands.
Benedict Nicolson
published his major study on the artist in 1958, before the publication of the
Giustiniani inventories
by
Luigi Salerno
, and did not cotton on to the importance what was in fact the second reference by
Vincenzo Giustiniani
to an artist whose identity was almost lost even in the 1630s. In publishing the
Giustiniani Inventory
(
The Picture Gallery of Vincenzo Giustiniani, II, The Inventory, Part II
, ,
Burlington Magazine
, 1960, vol. 102, p. 101) he concluded that 'The artist has not been identified'. The Giustiniani inventories were subsequently published exhaustively by
Silvia Danesi Squarzina
in three volumes
La collezione Giustiniani
,
Einaudi 2009, and she suggested that this painter called
Enrico d"Anversa
could indeed be
Hendrick Terbrugghen,
although the paintings said to be by him could not be located. She noted he was born in Utrecht
[6]
rather than
Antwerp,
and was tempted to see the vertical format of the first subject as perhaps being a mistake, and the picture might therefore be the horizontal
Denial
(130 by 176) in
Chicago
,
Art Institute
(
L.J. Slatkes
and
W. Franits
,
The Paintings of Henrick Terbrugghen
, 2007. No. A35, Pl. 34, but that is a work usually dated towards the end of the artist's life). It is true that most of the other Caravaggesque representations of the
Denial
are horizontal ones, apart perhaps significantly from those attributed to
Carlo Saraceni,
so the exceptional dimensions - repeated in the later inventories, are not a mistake. The pair were described in the post-mortem inventory of
Principe Andrea Giustiniani
in 1667, where they are given to '
Errico d'Anversa'
.
[7]
In the 1793
Giustiniani inventory
inv., 1, no. 100, the
Denial
is :
Altro di palmi 8. 13 per alto rappresentante S. Pietro che si scalda quando fu interrogato dalla Serva di Pilato. di Gherardo delle Notti, con Cornice come sopra…
(
Squarzina,
II, p. 293). It hung then in the Galleria, while the Flagellation was separated and in the
Seconda Camera
:
216 Altro di palmi 9. 14 per alto rappresentante la Flagellazione di Gesù Cristo alla Colonna di Michel' Angelo da Caravaggio, con Cornice come sopra dorata a vernice'
(
Squarzina
II, p. 305).
Squarzina
suggested (I, p. 329/30 that this
Enrico d'Anversa
could indeed be
Hendrick Terbrugghen
.
But both of the monumental canvases that Benedetto had commissioned soon lost their association with '
Enrico d'Anversa'
, although they are
mentioned in
Mariano Vasi
's
Itinerario istruttivo di Roma antica e moderna
, 1804, Vol. II, p. 347/348, in
Palazzo Giustiniani
and as by
Caravaggio.
Gaspare Land
i, made a further inventory of the remaining works in Palazzo Giustiniani in 1812/16 (
Squarzina
II, p 412) here we find as No. 151
S. Pietro che nega Cristo alla Serva di Pilato
di
Gherardo delle Notti
, followed by the
Flagellation
. It looks as though the two pictures were not part of the selection that had gone to
Paris,
where
Vivant Denon
would in 1808 sell Caravaggio's
Lute Player
to the Czar ,
Alexander I of Russia
. The situation of the collection (and that of other Roman families like the
Mattei
) became quite dire: over the course of the eighteenth century and the early nineteenth century, and the family were even unable to provide dowries for their daughter; the last
Giustiniani
of the Roman branch,
Leonardo Benedetto Giustiniani del Negro
died without an heir on 21 November 1857, and the succession devolved to
Pantaleo Vincenzo Giustiniani Recanelli
of
Genoa
. recognised in December 1857 as the rightful heir to the Fedecommisso set up by
Vincenzo Giustinian
i in 1631, and so to the
Roman Palazzo
and the contents. He lost no time in beginning the dispersal of the collection and the premises. The list of 144 paintings from the estate of this last Roman Giustiniani drawn up by
Signor Luigi Carpentieri
, an antique dealer who had looked after the collection as a curator for many years, was drawn up before the end of the year, and includes the last mention of the
Denial, (
with a reference to the numeration of
Gaspare Land
i's 1812/16 inventory ) : [66]
n. 174 = S. Pietro che nega Cristo alla Serva di Pilato di Gherardo delle Notti cornice come sopra studi Trecento . 300
. So the
Denial
was still in
Palazzo Giustiniani
in 1857, in the
Salone colla volta dipinto dai Fratelli Zuccari
(actually done by
Ricci
and
Lanzone
in the late 16th c.) .
~No. 66 - n . 174 _ S. Pietro che nega Cristo alla Serva di Pilato di Gherardo delle Notti cornice come sopra scudi Trecento 300 -
(
Squarzina
II, p 443) , and so was valued very highly (even though none of the paintings in the 'fire sale' seems to have achieved anything like their true prices). In 1859 there was a final sale, the
Flagellation
under
Landi
's numbering n. 170. but No. 174 is not there any longer, so may have been sold after that listing in 1859. The
Flagellation
(p. 456
Squarzina
V. II), was among pictures sold to '
Mazzoleni
', but the implication is that the
Denial
was bought privately after
Carpentieri
listed it in 1857 and before the final dispersal in 1859
.
In any case the authorship of both these paintings that
Vincenzo
recorded as by 'Enrico d'Anversa' - si crede - was lost by end of the seventeenth century.
Like many of the paintings in the
Giustiniani collection,
particularly those that stayed until the last in the
Palazzo
that would become the
Italian Senate
the
Denial of St Peter
had had a difficult ride. The
Giustiniani
had, along with many Roman patrician families, endured a long decline in their fortunes ever since the death of
Marchese Vincenzo
in 1638, and despite the
fedecommesso
that he placed on the collection already in 1631, antiquities and works of art leached from its walls. In the eighteenth century, the
Anglo Irish wife of Principe Giustiniani
had the collection of paintings spruced up, and entrusted their conservation to a French restorer,
Margherita Bernini
. Hers was more reviving than cleaning, and it is documented in a correspondence that began with a letter from
Philip Hackert
to
Sir William Hamilton
in
Naples
in the summer of 1788, against the use of varnishes in the conservation of paintings (published in the
Giornale delle Belle Arti
of October and November, 1788) She by contrast used a 'manteca prodigiosa' to work on the
Giustiniani
pictures (under the direction of the curator,
Pietro Angeletti)
and this was a magic wand for the appearance of the paintings, which were already showing the signs of age. But the material she use was essentially glair, the product of allowing whipped egg white to drain, and although it produces a proper glaze that makes the surface translucent, it does not last and eventually discolours more than varnish itself. She had done over two hundred of the
Giustiniani
paintings, and the purpose of the exercise can be seen in retrospect as more to dress the pictures up for possible sale than for real conservation, as many of them were subsequently sent to Paris under the care of dealers like
Elisabeth Vigée-Lebrun'
s husband,
Jean-Baptiste-Pierre Lebrun
. Whether the
Terbrugghens
were among these we do not know, but the size of the paintings meant that they were rolled up, and in the case of the
Denial
, the wrong way (with the paint surface inwards) that did provoke damage to the surface. Having said that, the condition and appearance of the canvas is remarkable, particularly in the area of the figures and the lower part of the composition.
In reality
Benedetto Giustiniani
already had a representation of the subject by
Ludovico Carracci
, which seems to have been a commission on which the artist spent a great deal of time in 1607. This was in the inventory drawn up after the Cardinal's death in 1621, '
un quadro di un san pietro quando fu interogato dall' ancilla quando fu interogato nel Cortile d'herode
' (No 140;
Squarzina,
I, p. 167) This was correctly described in the 1638 inventory (no. 55)
[8]
, again in the later inventory of 1667
[9]
. and is described by
Giovanni Michele Silos
in his
Pinacotheca, sive Romana Pictura et Sculptura
of 1673
[10]
, This points to Benedetto having a particular passion for the subject, which he must have commissioned from
Ludovico
soon after he arrived in
Bologna
in 1606; it seems to be the painting the artist himself writes to
Ferrante Carlo
on the 5th January 1608 apologising for the delay in finishing the big paintings for
Piacenza
that ought have been completed by last August but had been delayed because a certain commission from the new Legate to
Bologna
'
l'obbligo era con Monsignor Illustrissimo Vescovo di Piacenza, la causa delle lunghezze è stata lo Illustrissimo Legato nostro di Bologna, che mi commandò certa opera, dove vi consumai molto tempo e lodato Dio è finita …'
Ludovico
's painting (still lost), was also an upright one as we know from the later references, and was much smaller than the one he commissioned from
Terbrugghen
, but we
do understand from the descriptions that it was, as one would expect, a night scene, with the fire at which Peter was shown warming himself and a prominent role for the
ancilla,
the maidservant who was the porteress who had opened the wicket gate to the courtyard of the temple where Caiaphas was High Priest. The texts of both Luke (22:55) and John (18:25) mention the fire at which Peter was warming himself. It offers the intriguing idea that it was indeed
Benedetto Giustiniani
who was behind not only the propagation of the subject of the Denial, but also the exploitation of the effects of light that so many artists followed after
Terbrugghen
, from
Baburen, Honthorst
and
Stomer
to
Gerard Seghers
and
Jan van Bijlert.
Ter Brugghen
signed himself, as we have seen, as Flamº in Italy , so it is not surprising to find that Vincenzo Giustiniani refers to him as Enrico d'Anversa when drawing up the inventory of paintings in his
Palazzo Giustiniani
in
Rome i
n 1638. Although this has never been confirmed because of the frequent occurrence of the name in
Seicento Rome,
he mentioned him again in his note 'Discorso supra la pittura' written in the 1630s, when he refers to the eleventh sort of painting which
'
è di dipingere con avere gli oggetti naturali d'avanti. S'avverta però che non basta fare il semplice ritratto, ma è necessario che sia fatto il lavoro con buon disegno, e con buoni e proportionati contorni, e vago colorito e proprio, che dipende dalla pratica di saper maneggiare i colori, e quasi d'istinto di natura, e grazia a pochi conceduta; e sopratutto con saper dare il lume conveniente al colore di ciascheduna parte , e che i sudici non sieno crude, ma fatti con dolcezza ed unione; distinti però le parti oscure, e le illuminate, in modo che l'occhio resti sodisfatto dell'unione del chiaro e scuro senza alterazione del proprio colore, e senza pregiudcare allo spirito che si deve alla pittura, come ai tempi nostri, lasciando gli antichi, hanna dipinto il Rubens, Gris Spagnuolo, Gherardo, Enrico, Teodoro, ed altri simili, la maggior parte Fiamminghi esercitati in Roma, che hanno saputo ben colorire.
'
It seems that
Vincenzo
was describing the very qualities that he saw in the
Denial
, and that this kind of painting from nature was especially practised by the artists he listed, who were predominantly from Flanders. The names he refers to apart from
Rubens
(who is not represented in the Giustiniani inventories) are of the generation that his brother had sponsored.
Ribera
(Spagnoletto
) with more than a dozen works for
Benedetto
was in Rome from 1612 to 1617,
Honthorst
who although he may have arrived in Italy earlier is not a presence in Rome before about 1615, painted
Christ before the High Priest
now in the
National Gallery
,
London,
a large canvas evidently in the same series as
Terbrugghen
's canvases, which
Vincenzo
called '
Christ before Caiaphas
'
[11]
. Dated to around 1617, it is a central example of the textual concentration combined with direct observation from the life that characterised this Caravaggesque revival, evidently led by
Benedetto Giustiniani
.
Honthorst
also painted for
Benedetto
the
Liberation of St Peter
now in
Berlin
[12]
(a smaller canvas 130 by 181) while
Teodoro
, who is
Dirck van Baburen,
known in Italy by that name, painted the massive overdoor with
Christ Washing the Apostles's Feet
[John, 13: 1-17] that is now in
Berlin
(199 by 297 cm). So
Terbrugghen'
s two canvases were the first of a series of dramatic proportions, almost three metres by two, that Benedetto commissioned from the new generation of artists who were willing to follow in the footsteps of
Ciriaco Mattei,
who had Caravaggio paint some of the fundamental tenets of his Christian faith in the
Capture of Christ
and the
Supper at Emmaus
. Another would be provided by
Carlo Saraceni
, who did a
Christ with Two Apostles on the Way to Emmaus
,
[13]
(also 12 by 8 palmi, or 270 by 180 cm) like
Caravaggio
's subject that soon reached
Charles Ist's
collection in London; and
Vouet
(in
Rome
from 1613) did an
Annunciation
on the same scale (290 by 193 cm) that was lost in
Berlin
in 1945
[14]
.
Domenico Fiasella
was also engaged at
Palazzo Giustiniani
to paint his two illustrations from the Life of Christ -
Christ Healing the son of the Widow of Nain
and
Christ Healing the Blind
now in the
Ringling Museum, Sarasota
, on a similar scale (275 by 178,5)
[15]
, and they obviously related to Benedetto's passion for illustrating these New Testament themes with the new-found realism, although he also looked to
Bolognese
painters especially since his stay in their town. In the 'anticamera dell'appartamento grande del Cardinale' he had
Antonio Carracc
i's
Visitation,
another large upright canvas (270 by 160 cm; lost) which is mentioned by
Malvasia
but
Vincenzo
again was mistaken, calling it
Agostino
, but explained its being unfinished because of the artist's illness (that led to his early death in 1618)
[16]
; while of the grand series of
Evangelists
Benedetto
had evidently commissioned Domenichino to supply the
St John
, already present in his 1621 inventory (No. 86). The other three
(St Matthew
by
Regnier,
St Mark
by
Albani
and
St Luke
by
Guido Reni
) all missing, are listed first in the 1638 inventory, and must be from
Vincenzo'
s patronage after his brother died.
Vincenzo,
who inherited the
Palazzo Giustinianii
and the collection when his brother died in 1621, was not always quite sure about attributions when listing the paintings, hence his cautious
si crede di
when naming their authors; but he himself was to follow his brother's example with renewed passion for patronage with artists like
Regnier
and
Valentin
. It is likely that it was in the area of antiquities that his passion for collecting lay, which would be celebrated in the lavish edition of the
Galleria Giustiniani
that he published from 1634. It was his brother who had inherited the town
Palazzo
when their father
Giuseppe Giustiniani
died in 1600, while
Vincenzo
had the estate and title of
Marchese
at
Bassano Romano
; although he was doubtless often in
Rome
, his artistic focus was on the decoration of the
Palazzo
, gardens and hunting lodge in the Castelli, as well as bringing up a young family (who all predeceased him); he came and went to and from the city without any fanfare.
Benedetto
also had the
Villa Giustiniani
outside
Piazza del Popolo
(incorporated into the
Borghese Gardens
in the early nineteenth century) so he had ample wall space to hang these impressive pieces of modern art; they often seem to be altarpieces, but we know from the experience of
Caravaggio t
hat the church authorities were often too conservative to be able to admit new iconography.
Benedetto
had inherited the resources to finance this patronage, and was said to have expended a fortune on the art he bought. This is the reason for the doubt with which Vincenzo approached naming the authors of these works that his brother had commissioned in his inventory, for even the
Saraceni,
the
Vouet,
the two
Terbrugghens,
the two
Honthorsts
are described as
'si crede di…
' and and we can argue that this is an important distinction, for he was much more affirmative about artists like
Regnier, Valentin
and
Spadarino
who had been present during his tenancy of the
Palazzo.
Sandrart
refers (
loc. cit
) to the room in
Palazzo Giustiniani
where the
Cupid Victorious
hung along with a hundred and twenty other paintings in a single room, open to the public, and the idea of seeing the actual events of the
New Testament
as they really happened was an emotional issue that had a tremendous impact on all visitors. Not all
Benedetto'
s acquisitions are listed in his surviving [1621] inventory that comprised 280 paintings, and
Squarzina
assumed that 'some may have been placed in the '
stanza dei quadri antichi
' or in the
Galleria
- public areas of the house that did not come under the
guardarobbiere's
jurisdiction'
[21]
, so it was radically incomplete.
The two pictures done for
Cardinal Benedetto
by '
Enrico d'Anversa'
, of which the
Denial of St Peter
has now come to light, were painted in a relatively brief period of opportunity, certainly before
Terbrugghen
was recorded in
Milan
in the summer of 1614, on his way back to
Holland
where he would marry within a year or so. The son
Richard
believed that he had spent ten years in
Italy,
and certainly this was where his art was formed. The realisation that it was the
Cardinal'
s taste for modern art, and for the continuation of the new realism in
Biblical subjects
, is an important step in recognising his role in sponsoring the new
Caravaggism
of the second decade, as well as at the turn of the century. It goes against the prevailing view of the generation around
Vincenzo
, from his curator
Sandrart
and
Bellori
, to
Malvasia
and
Baldinucci
,
Passeri
and
Pio,
that the latter was responsible for all the important acquisitions in the
Giustiniani collection
, but they were much more inclined to be sycophantic towards the
Marchese
, and above all they were unacquainted with his brother who died long before they were on the scene. The evidence points towards the relationship with
Caravaggio
being essentially that of
Benedetto:
it was he who had his portrait painted by him who must have commissioned the two
Fathers of the Church (Jerome and Augustine)
from him, and bought pictures that remained on the artist's hands when they were not used - for example the first version of the
Saint Matthew.
- and probably the
Cupid Victorious
.
It was not until the autumn of 1611 that
Benedetto
was released from his
Legation
to
Bologna
and was able to return to Rome, and it may well be that his return to the Roman scene was the opening of a new chapter in his patronage of artists who were encouraged to follow his enthusiasm for the new naturalism he was so passionate about since he had first encountered
Caravaggio
. The man himself was gone, but other artists could respond to the call, and it was the young arrivals from abroad who responded to this call. This was after all when
Ribera
came to
Rome
(? 1612) , and
Baburen
(? 1612) and then
Voue
t,(1613)
Vignon, Honthorst
(?1615) ,, followed by
Valentin
, and
Jean Ducamps
, around 1620, then
Stomer. Cecco
, who seems to have been
Caravaggio
's young assistant, probably only began painting around this time, and we know
Bartolomeo Manfredi
painted his version of the
Sdegno di Marte
- the Mars chastising Cupid now in
Chicago
, in 1613, because as
Mancini
relates he was not allowed to copy the then celebrated picture
Caravaggio
had painted for
Cardinal Del Monte,
and Mancini himself by subterfuge managed to get copies of the
Fortune Teller
that was his favourite among the paintings the
Cardinal
had. It looks as though this burst of interest in the Caravaggesque was prompted by some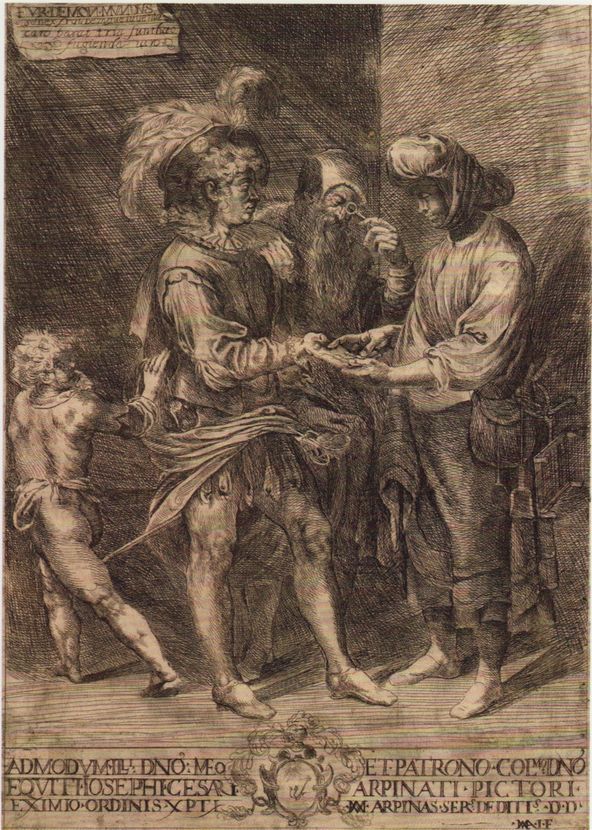 external factor, and it is possible that was the return of
Caravaggio'
s most powerful patron, who evidently encouraged the young Flemish artists in the parish of
San Lorenzo in Lucina
to retrieve the magic that the late genius had made for him. In reality the
Denial of Saint Peter
was probably partly inspired by a
Caravaggio
painting that had come to Rome in 1612 - this was the work that
Luca Ciamberlano
had procured in Naples in part settlement of a debt that he had to
Guido Reni.
This great painting, so far known from a replica in the
Metropolitan Museum
[22]
, was a sparkling inspiration that evidently prompted Terbrugghen to re-interpret the subject in a way that illustrates how much he captured of
Caravaggio'
s idea, without in any sense repeating or copying the work he saw. There is also an echo of the other celebrated subject that
Caravaggio
had painted for
Ciriaco Mattei,
the
Taking of Christ.,
for the
Denial
incorporates that scene in the background. These paintings by
Caravaggio
also include the artificial light sources, the lantern in the
Taking of Christ
and the light of the fire and the sparks in the
Denial..
These speak of the involvement of the patron, who was not only concerned with the precise passage in the
Gospels
that he wanted represented, but was also concerned with the effects of light and colour that his brother would later detail in his
Discorso sulla pittura
. It was after all not a question of making a precise copy of appearances but also one of drawing, of understanding the gradation of light and shade, the correct shading - as he describes the
sudici
or gradations of depth of shade, and the different appearance of colours in different lighting.
Benedetto
was evidently taken with the idea of artificial light which had gained popularity since
Venetian painters
like
Tintoretto
and
Bassano
became more familiar in
Rome
, and of course the collection already present had a number of candlelit works by the
Genoese painte
r
Luca Cambiaso.
; candlelit scenes were quite a feature of the collection even as early as 1601.
[23]
In reality
Caravaggio
himself rarely employed a source of light different from daylight elsewhere, for the candle in the
Seven Acts of Mercy
is not really the equivalent of the predominant interest in artificial sources that we see in
Honthorst, Baburen Trophime Bigot, Spadarino, Gerhard Seghers
, to name but a few., but it is also obvious that it was the translation of reality, with optical effects that really gave this interest in real appearance such an impetus. It is clear that the subject was one of particular fame for French and Dutch painters, from Valentin (cf his example in the
Pushkin Museum,
Moscow
) to
Gerhard Seghers
, who made it one of the principal subjects of his production.
So the time frame for Terbrugghen's two canvases for
Benedetto Giustiniani
is 1612 to early 1614, and it so happens that the other discovery, first shown
[24]
in the exhibition
Roma al tempo di Caravaggio
in 2011, is actually signed and dated in the year 1612, with the only written evidence of the artist's presence in Italy. One of the mysteries of his career is that although his art was clearly a reflection of his experiences in Italy, he left very few documentary traces of his presence there. An early 18th century reference in Holland called him
Henrico Ter Brugghen
, and almost all his paintings have an Italian angle, so it is not surprising that his son
Richard -
in one of the few biographical details he gives of him that have been repeated - says he spent ten years in the country. His biographers point to him having been a traveller, and there are even suggestions - somewhat improbable - that he returned after after his marriage in 1616, but this is not generally taken seriously. Whether he went to
Naples
and painted an altarpiece for the
Groote Kerke
there, as Houbraken would have us believe, is equally unproven. More recently a documentary reference was found to a namesake who was a cadet in the army in
Holland
in April 1607, so his arrival in Italy has generally since been thought of as commencing in the spring of 1608, but this still leaves at least six years before he is sighted in
Milan
on his way back North. He does not seem have been counted in any of the parish registers in
Rome
, and in fact much has been made of the single reference to him in
Milan
, as though he was as conscious of contemporary painting in north Italy -
Bassano
and
Fetti
- as of art in
Rome
. Since the Church took back
Ferrara
under its control in 1598, the art of 'Lombardy' was more familiar to the
Curia
and a large number of the important patrons from
Rome
, there was an enthusiasm for this colour and chiaroscuro, not all of it associated with
Caravaggio
. The
Fortune Teller
exhibited at the recent exhibition at
Palazzo di Venezia
in
Rome, Roma al tempo di Caravaggio
, is an instance of
Terbrugghen'
s more familiar inspiration from the few secular themes that
Caravaggio
painted.
Giulio Mancini
, writing to his brother
Deifebo
7 June 1613 calls his painting of the subject '
la più bella cosa che habbia fatto Michelangelo da Caravaggio… una Zinghara
' and in a way the revival of interest in the artist at this time concentrated on the colourful realism of the early pictures, before he adopted the 'ombre fierissime' as Bellori termed them of his history subjects. This was also the time when
Scipione Borghese
was collecting antique representations of the Gipsy, some of them mainly the creative reconstruction of the French sculptor
Nicolas Cordier
, which would adorn the room at his
Villa
on the
Pincio
that was dedicated to the theme
[25]
. This would be the other legacy of
Terbrugghen'
s naturalism, one that had a much more receptive audience back at home in the
Netherlands,
where practice with the single musicians and drinkers that he had
Baburen
specialised in would forever distinguish this echo of the new naturalism that had made such an impression on this generation. It does seem as though there was already awareness of the two types of
Caravaggesque imagery
, the one charged with deep shadows in order to express a dramatic piece of
azzione,
or drama, and the other bright
and colourful and even caricatured. Both required the sensitivity for light and colour that
Vincenzo Giustiniani
referred to in his narrative, and to the extent that he must have been reporting what he had gathered from the artistic debate that went on between his brother and these mainly Flemish painters, it was a quite deliberate artistic philosophy that was well understood.
The painting has an inscription in capital letters across the middle of the original canvas AEGIPTIA CREDULº DIVx ENRICO TER (i
n ligature
) BRUGGº FLAMº PINXIT AD MDCXII. It had been concealed by an early relining, dating from around 1800, and it had never been seen for instance when it was de-accessioned from the
North Carolina Museum of Art at Raleigh,
to whom it had been donated in 1956
[26]
and it only came to light as the result of an accident in shipping that made it necessary to change the support. The interest in Terbrugghen is modern, for his name does not appear in any nineteenth century sale catalogues, in
Graves
and
Cronin'
s analysis of auction records, or even in Waagen's catalogue of British collections, so this this inscription is above reproach, and is close to the form of another on the back of
Vouet
's
Fortune Teller
in
Palazzo Barberini
, which also came to light in recent years as a result of conservation. In that case the date is 1617, making it the first documented painting by
Vouet
in
Rome,
and it similar to other inscriptions on the back of paintings from the collection of
Cassiano Dal Pozzo.
The inscription also states that the picture is AD VIVUM DEPICTA, so giving an idea of the spirit in which these artists around
Giustiniani
were operating. Manfredi charged separately for the models that he used to paint his interpretation of the
Sdegnio di Marte
that he did for Mancini, inspired by his experience
Caravaggio
's original in
Del Monte
's palazzo, for this too was to be painted from the life.
Federico Borromeo,
writing a little later recalled seeing a painter who painted such scenes from the life:
Nei miei dì conobbi un dipintore in Roma, il quale era di sozzi costumi, et andava sempre co' panni stracciati, e lordi a meraviglia, e si vivea del continuo frà i garzoni delle cucine dei signori della Corte. Questo dipintore non fece mai altro, che buono fosse nella sua arte, salvo di rappresentare i tavernieri et i giocatori, ovvero le zingare che guardano la mano, ovvero i baronci, et i facchini, e gli sgratiati, che si dormivano la notte per le piazze, et era il più contento uomo del mondo, quando aveva dipinto un'osteria, e cola entro chi mangiasse e bevesse. Questo procedeva dai suoi costumi, i quali erano somiglianti a suoi lavori'
[27]
.
Although the patched clothes of the
scugnizzo
in the
Fortune Teller
might recall this passage, in reality this description applies much more to
Ribera'
s beggars and philosophers, and it is the shining lights of the drapery and incredibly sophisticated colouring that give lustre to these subjects. The fire under the cauldron is a feature that links the painting to the
Denial
, in which the flames warming St Peter give a light that selectively describes the garments of the protagonists, and the ruddy glow of the wicket keeper whose accusing finger is the focus of his realisation of the betrayal that she names. In contrast light is used in the daylight mode, with a harder, more Flemish articulation, and indeed the face of the central courtesan is closer to
Baburen
's faces. He had recently arrived in
Rome
and was probably as thick with
Terbrugghen
then as he would be when they shared a studio on his return to Utrecht in 1620. But the landscape background, which has a Flemish character to it, is also close to that of numerous pictures by Saraceni, so pointing to the cultural formation of the Italian
Terbrugghen.
The composition is not in any way dependent on the
Caravaggio
original, and this is part of a pattern in Terbrugghen, for there is rarely a direct quotation. The single figure musical subjects appear superficially closer to the original example of the
Lute Player
and the
Musicians
in the
Metropolitan Museum
, but this only illustrates the freedom that the example of
Caravaggio
introduced, allowing artists of all colours to see what they thought was his message in a liberation from the 'methods' of contemporary workshops. The
Fortune Teller
echoes on the other hand an early seventeenth century print of the same subject, which has the same four characters, dedicated to
Giuseppe d'Arpino,
and a painted version of it in the
Galleria Pallavicin
i
[28]
Since the dedication mentions prominently his Knighthood, which he received from
Clement VIII
in 1600, it has often been dated around that time, but there is no reason to think that it could not be later and the surfacing of this painting by Terbrugghen suggests it may be contemporary with it. The monogram that appears twice has not been identified, but there seems little doubt to me that this is that of
Francesco Villamena
(Assisi 1584-Rome 1624) who was also associated with engraved scenes from Roman life, and indeed some paintings. The graphic background to the painting is also similar to that of the print, and the infrared image shows that the artist spent some time working out the arrangement of the figures, the cavalier at first being on the right, another figure looking the other way in the centre (the foot quite obvious as a pentimento next to the right foot of the cavalier. His Flemish features certainly look like his own, as in the engraving after a presumed self-portrait that Bodart engraved in 1608 for
Richard Ter Brugghen.
The plumed hat loosely comes from the example of the
Cardsharps
- which then still belonged to
Cardinal Del Monte,
and is a perennial feature of the Italian scene. There is a range of standing figures like the
Cavalier,
as for instance in the executioners in the
Beheading of St Catherine
in the
Chrysler Museum
, and the fragment of the
Decollation of the Baptist
in the
National Gallery, Edinburgh.
These works are difficult to date, although their incorporation in the catalogues of his work have meant that they are seen as from around 1620 rather than much before; and while in some ways they are more sophisticated than in the
Fortune Teller,
the ability to represent forms of drapery in really subtle folds is a common denominator. The cavalier on the right of the
Mucius Scaevola before Porsenna
is one of the closest parallels, and in a work that has much of the chiaroscuro of the
Denial,
suggesting that it too may still be an Italian work; the steep foreshortening of the dead secretary to
Porsenna in the foreground is a commonplace among many artists at this time, from
Antonio Carracci
to
Louis Finson.
The recent
Saraceni
show in
Rome
illustrated how much the artist matured in this culture around the major commissions that
Benedetto Giustinian
i gave to artists from the Flemish community, who had been part of his studio or academy., and if the more staccato, crisp style of the colouring of some of
Terbrugghen
's narrative painting seem to come from this background, the influence seems the other way when we look at the drama that
Saraceni
manages to introduce into the altarpieces with
St Charles Borromeo
(
Cesena
and
Santa Maria in Aquiro,
Rome
, and the
Martyrdom of St Lambert. (Santa Maria dell' Anima,
Rome 1618). It will be really worthwhile to follow the individual characteristics of
Terbrugghen'
s handling in the Italian pictures we now know, to see if the rich colouring and profiles of the
St Stephen attended by St Nicodemus and St Gamaliel
(
Boston,
Museum of Fine Art:
Saraceni
show No. 59) are not by him. There is also the mystery of the '
Pensionante
'; the subtlety of Terbrugghen's response in the
Denial
to
Giustiniani'
s pursuit of the the intuitive ability of the (Flemish) painters to capture from the appearance of the objects in front of them the appropriate light and colour according to their varying chiaroscuro was certainly up to the task. It would be nice if we found that he was just as great a colourist in Italy as he turned out to be in
Holland
[29]
. But it will be clear that it was
Benedetto Giustiniani
's enthusiasm for the new style of painting 'from life' that gave these largely foreign artists the incentive to work in this new style, so there is continuity from one of the earliest patrons of
Caravaggio
to the next generation of his followers.
by Clovis WHITFIELD (8 / 8 / 2016)
ITALIAN TEXT
Finora gli studi su Terbrugghen stati insoddisfacenti a causa dell'assenza di qualsiasi evidenza concreta sulla sua permanenza in Italia. Questo ha significato che la sua carriera, così come è rappresentata dalle sue opere note, inizia molto dopo il suo rientro a Utrecht, e invero anche quelle poche opere realizzate prima del 1620, anche quelle firmate e datate (dal 1616 in avanti) sono state assegnate in maniera dubitativa a causa della loro poca assonanza con quelle note. Ciò malgrado la considerazione della sua arte è universalmente riconosciuta grazie alla sua esperienza maturata in Italia, tanto che è ritenuto come uno degli artisti più rappresentativi del caravaggismo. Esiste un solo documento riferibile al suo soggiorno italiano, datato 1614 mentre l'artista era di ritorno in Olanda, e nessun cenno alla sua presenza altrove nel Paese, neanche a Roma dove il suo stile sembra essersi consolidato, o a Napoli dove Houbraken, uno dei suoi biografi, riferisce che vi fosse recato. Lo stesso autore descrive Terbrugghen come un viaggiatore, e suggerisce anche un suo secondo viaggio in Italia. Non esistono però evidenze di una sua permanenza negli Stati delle Anime delle parrocchie romane. Questo dato potrebbe però essere dovuto alla sua confessione protestante che gli faceva evitare il censimento annuale delle anime realizzato principalmente per assicurarsi la partecipazione alla messa domenicale. In qualche maniera Terbrugghen è stato visto come il successore di Baburen, di cui era più giovane di sei anni, che rientrò a Utrecth dopo di lui e la cui carriera fu interrotta da una morte troppo precoce nel 1624. Sandrart, che pensava che avesse raggiunto l'Italia nel 1629 molto dopo che Terbrugghen era partito, era nella posizione di riconoscere il suo talento anche nella collezione Giustiniani che aveva curato a Roma, non lo aveva capito bene e gli dedicò una breve nota nella sua
Teutsche Akademie
(1675), suggerendo a Richard, il figlio dell'artista di provare a ridisegnare la biografia in maniera più precisa, che purtroppo è andata perduta.
Sandrart per lo meno gli attribuisce il merito di aver seguito il movimento caravaggesco, soprattutto nella sua tendenza a dipingere dal vero «
in linea con la sua inclinazione ad approdare a pensieri profondi e melanconici che seguiva in natura e i suoi sgradevoli difetti molto bene nelle sue opere, ma sui quali non si poteva essere d'accordo. Nello stesso modo un destino beffardo si accanì contro di lui fino alla morte
», ma non sembra si fosse reso conto che la collezione di cui era il curatore comprendeva opere di Terbrugghen. Le due opere nuove che possono essere confermate come sue dimostrano, in ogni modo, il ruolo centrale che l'artista ricoprì nella fase iniziale del caravaggismo, che iniziò intorno al 1612, e potrebbero anche mettere luce sul rapporto con Saraceni. Inoltre nonché l'importante ruolo che un singolo mecenate giocò nel perseguimento del nuovo naturalismo creato da Caravaggio, la cui genialità dimostrò di apprezzare sin dall'inizio. Una è un'opera realizzata per il maggior collezionista del caravaggismo italiano; l'altra è accompagnata dal primo documento sulla presenza di Terbrugghen in Italia, che fu scoperto nel 1846. Queste opere rappresentano i due lati del naturalismo e del colorismo dell'eroe dei Giustiniani: la parte coloristica veniva continuata dall'unico amico sopravvissuto, Carlo Saraceni, e l'altra da Terbrugghen.
Le difficoltà per Terbrugghen sono acuite dalla considerazione che alcuni dei dipinti più caravaggeschi sono in effetti gli ultimi, ovvero quelli dipinti in Olanda dove, insieme a Baburen, cercava di soddisfare la curiosità che molti collezionisti nutrivano nei confronti del leggendario artista italiano. Secondo Floris van Dijck, informatore di Van Mander, Terbrugghen fu il primo artista nordico a rientrare da Roma con qualche impressione del leggendario illusionismo caravaggesco di cui erano giunte voci.
Il documento che fornisce informazioni sul suo passaggio a Milano nel 1614, mentre rientrava in patria, è stato probabilmente ricostruito in maniera errata. Infatti, da un lato si è cercato di sostenere troppo l'idea che Terbrugghen fosse in contatto con alcuni pittori del nord Italia, come Fetti e Bassano, dall'altro si è evidenziato il suo rapporto con i pittori romani, città nella quale sembra aver lasciato pochissime tracce documentarie. Secondo i suoi biografi, Terbrugghen fu un viaggiatore. Rimane però ancora controverso sia un viaggio a Napoli, sia un secondo viaggio a Roma, anche se la capitale dello Stato Pontificio sembra rappresentare la città della sua formazione artistica. E mentre Louis Finson fu più contento di provare a imitare (a Napoli) il suo amico Caravaggio e di vendere le sue opere in veste di suo mercante, Terbrugghen dovette competere con gli artisti locali e non limitarsi a fare le copie delle opere che stavano diventando famose. Le due versioni della
Vocazione di san Matteo
sono radicalmente differenti, e provengono chiaramente dal prototipo caravaggesco di San Luigi dei Francesi.
All'interno della mostra
Roma al tempo di Caravaggio
, svoltasi a Roma a Palazzo Venezia nel 2011, è stata pubblicata una
Zingara
, firmata e datata <Enrico Ter<Brugg°<Flam°<… ADMDCXII>. Quest'opera apre una finestra importante sull'attività dell'artista in Italia, dove arrivò probabilmente nel 1608 e da dove ripartì nell'estate del 1614. È questa la prima evidenza documentaria che viene alla luce della sua presenza nella penisola dal 1846 ed è di grande interesse perché apre un capitolo sulla prima metà della sua carriera. Ma prima di tutto bisogna discutere di altri due incredibili dipinti che realizzò nello stesso periodo.
La presenza, nell'inventario del marchese Vincenzo Giustinani stilato negli anni '30 del Seicento, di due dipinti di '
Enrico di Anversa
' portano all'identificazione di Terbrugghen come l'autore delle due tele verticali descritte nell'inventario del 1638 al numero 150 e 151 e che erano appesi nella quinta Sala Grande del Palazzo romano. Uno, era '
L'Historia di S. Pietro e L'Ancilla che si scalda al fuoco di notte
' e l'altro '
Christo ligato alla Colonna, e diverse altre figure grandi al naturale dipinti in tela alto palmi 13 largo 9 in circa senza cornice si crede di mano di d'Enrico d'Anversa
'. Uno di questi è stato esposto alla recente mostra fiorentina su
Gherardo delle Notti
(Uffizi, febbraio-maggio 2015), benché l'origine della
Negazione di san Pietro
(n. 5: una grande tela di cm 228x190, ora nella collezione Spier di Londra) non fu realizzato a quel tempo. Il tema del dipinto è intrinsecamente caravaggesco e Gianni Papi lo mette giustamente in relazione con la versione orizzontale dello stesso soggetto eseguito da Terbrugghen, ora all'Art Institute di Chicago (cm 132,5x178). Le dimensioni coincidono: 13 palmi romani sono circa 290 cm, e gli 8 palmi della larghezza sono all'incirca compatibili con i 180 cm dell'unità di misura ora in uso. In vendita da Tajan a Parigi nel 2007, è apparso con l'attribuzione a Terbrugghen. Proveniva da una collezione nei pressi di Bordeaux, ma le origini non erano documentate da alcuna storia utile, e l'attribuzione non era supportata né da nessun esperto di arte olandese, né da Wayne Franits, autore della recente monografia sull'artista che ha preso le mosse dal progetto di Leonard Slatkes. In realtà il tema è proprio da associare a Terbrugghen, di cui esistono altre versioni. Si tratta di un frammento con una serva al Stourhead National Trust; e un'altra composizione, ma speculare, più fortemente dipendente da Dürer alla Shipley Art Gallery di Gateshead (un'altra versione a Lubiana in Polonia). Il dipinto di Chicago è ritenuto tardo a causa del disegno somigliante alla
Liberazione di san Pietro
di Schwerin, un dipinto firmato e datato 1629. Ma l'esistenza del dipinto Giustiniani come uno dei primi tra le opere note in Italia deve spingerci a riconsiderare anche la datazione basata su dati stilistici, perché indica una flessibilità nella resa, per lo meno a giudicare da un tale capolavoro eseguito all'inizio della carriera. I soggetti dei dipinti di Terbrugghen resistono con coerenza a una datazione verso l'ultima decade della sua attività, e l'esistenza delle due
Negazioni
potrebbero dimostrare la sua abilità a lavorare in modi diversi in Italia e in Olanda.
Benedict Nicolson pubblicò il suo magistrale lavoro sull'artista nel 1958, prima che Luigi Salerno pubblicasse gli inventari Giustiniani. Nel suo articolo uscito su Barlington Magazine (
The Picture Gallery of Vincenzo Giustiniani
, II, The Inventory, Part II, 1960, vol. 102, p. 101), Nicolson conclude affermando che «
the artist has not been identified
». Gli inventari Giustiniani sono stati successivamente pubblicati in maniera estensiva e puntuale da Silvia Danesi Squarzina nei tre volumi
La Collezione Giustiniani
(Einaudi, 2009), dove la storica suggerisce che il pittore chiamato Enrico d'Anversa potrebbe essere invero proprio Hendrick Terbrugghen, anche se i dipinti a lui attribuiti in quell'occasione non furono rintracciati. La Squarzina annota che l'artista era nato a Utrecht, e non ad Anversa; ritenne il formato verticale del primo soggetto un possibile errore ipotizzò un'identificazione con la versione orizzontale della
Negazione
(cm 130x176) del Chicago Art Institute (L.J. Slatkes and W. Franitis,
The Paintings of Henrick Terbrugghen
, 2007, n. A35, fig. 34, ma questa è un'opera generalmente datata verso la fine della vita dell'artista). È vero che la maggior parte delle altre rappresentazioni caravaggesche della
Negazione
hanno un formato orizzontale, a parte quelle attribuite a Carlo Saraceni, così che le dimensioni eccezionali, ripetute negli altri inventari, non sono degli errori. La coppia fu descritta nell'inventario
post-mortem
del principe Andrea Giustiniani nel 1667, dove vengono attribuite a 'Errico d'Anversa'. Nell'inventario Giustiniani del 1793, inv. 1, n. 100, la
Negazione
è descritta come: «
Altro di palmi 8.13 per alto rappresentante S. Pietro che si scalda quando fu interrogato dalla Serva di Pilato. di Gherardo delle Notti, con Cornice come sopra….»
(Squarzina, II, p. 293). Allora il quadro era appeso nella Galleria, mentre la
Flagellazione
si trovava nella Seconda Camera: «
216 Altro di palmi 9.14 per alto 9.14 per alto rappresentante la Flagellazione di Gesù Cristo alla Colonna di Michel'Angelo da Caravaggio, con Cornice come sopra dorata a vernice
» (Squarzina II, p. 305).
Squarzina suggeriva (I, p. 329/30) che questo Enrico d'Anversa poteva essere proprio Hendrick Terbrugghen.
Ma le due tele monumentali che Benedetto Giustiniani aveva commissionato persero molto presto la loro associazione con 'Enrico d'Anversa', anche se, nell'
Itinerario istruttivo di Roma Antica e Moderna
, Mariano Vasi (1804, Vol. II, p. 347/348) le colloca dentro palazzo Giustiniani e le attribuisce a Caravaggio.
Gaspare Landi fece un ulteriore inventario dei pezzi che rimanevano in palazzo Giustiniani nel 1812/16 (Squarzina II, p. 412) dove al n. 151 compare un
San Pietro che nega Cristo alla Serva di Pilato
di Gherardo delle Notti, seguito dalla
Flagellazione
. Sembrerebbe quindi che i due dipinti non avessero fatto parte della selezione che era andata a Parigi, dove nel 1808 Vivant Denon avrebbe venduto il
Suonatore di Liuto
di Caravaggio allo zar Alessandro I di Russia. La situazione della collezione (così come quella di altre collezioni romane, come quella dei Mattei) divenne sempre problematica: durante il corso del XVIII secolo e l'inizio del XIX le famiglie patrizie non furono più in grado neanche di provvedere le doti per le loro figlie. L'ultimo Giustiniani del ramo romano, Leonardo Benedetto Giustiniani del Negro morì senza eredi il 21 novembre 1857. In base al Fedecommesso voluto da Vincenzo Giustiniani nel 1631, fu designato successore dei beni romani, del Palazzo e dei suoi arredi, Pantaleo Vincenzo Giustiniani Recanelli di Genova, che non perse tempo a disperdere la collezione. Tra i 144 dipinti della proprietà romana catalogati entro la fine del 1857 dal signor Luigi Carpentieri, un mercante di arte antica che aveva curato la collezione per molti anni, compare per l'ultima volta la
Negazione
(con un riferimento alla numerazione dell'inventario di Gaspare Landi del 1812/16): [66] n. 174 =
S. Pietro che nega Cristo alla Serva di Pilato di Gherardo delle Notti cornice come sopra scudi Trecento. 300
. Quindi nel 1857 la
Negazione
era ancora a palazzo Giustiniani nel Salone con la volta dipinta dai Fratelli Zuccari (in realtà realizzato da Ricci e Lanzone alla fine del XVI secolo).
N. 66 – n. 174 – S. Pietro che nega cristo alla Serva di Pilato di Gherardo delle Notti cornice come sopra scudi Trecento 300
(Squarzina II, p. 443), fu quindi valutato molto bene, anche se nessuno dei dipinti nella vendita selvaggia sembra aver raggiunto la stima iniziale. Nel 1859 ci fu un'ultima vendita: la
Flagellazione
al n. 170 dell'inventario di Landi, ma il n. 174 non compare, potrebbe essere stata venduta dopo che fu stilato l'elenco nel 1859. Il dipinto (Squarzina V.II, p. 456) fu venduto, insieme ad altre opere, a Mazzoleni, mentre la
Negazione
fu venduta privatamente dopo l'inventario di Carpentieri del 1857 e prima della definitiva dispersione del 1859. In ogni caso l'autore di queste due opere, che Vincenzo segna come di 'Enrico d'Anversa', era già perso entro la fine del XVII secolo.
Come molti altri dipinti della collezione Giustiniani, in particolare quelli che sono rimasti fino all'ultimo in palazzo Giustiniani, che sarebbe diventato una delle sedi del Senato Italiano, la
Negazione di san Pietro
ha avuto un percorso difficile. I Giustiniani, così come molte altre famiglie patrizie romane, avevano sofferto un lungo declino delle loro fortune già dalla morte del marchese Vincenzo nel 1638, e, malgrado il fedecommesso cui era stata legata la collezione già nel 1631, antichità e opere d'arte erano svanite tra i muri come nel nulla. Nel XVIII secolo, la moglie anglo-irlandese del principe Giustiniani aveva deciso di pulire la collezione dei dipinti, affidandone la loro conservazione alla restauratrice francese Margherita Bernini. Più che pulire, la Bernini cercò di dar loro nuova vita, procedimento documentato nella corrispondenza che iniziò nell'estate del 1788 con una lettera che Philip Hackert inviò a Sir William Hamilton a Napoli, dove l'artista si dichiara contrario all'uso delle vernici nel restauro dei dipinti (pubblicata nel
Giornale delle Belle Arti
nell'ottobre e novembre del 1788). La Bernini, per contrasto, usava una '
manteca prodigiosa
' (in italiani nel testo,
ndt
) per le opere dei Giustiniani (al tempo sotto la curatela di Pietro Angeletti), una specie di bacchetta magica per l'aspetto dei dipinti che stavano già mostrando i primi segni del tempo. Quello che in realtà la restauratrice usava era un ravvivante, creato dalla chiara dell'uovo montata a neve, che benché producesse un effetto traslucente, in realtà più che verniciare nel tempo faceva svanire i colori. La Bernini 'ripulì' più di duecento opere della collezione, il cui scopo, in retrospettiva, era quello di rendere le opere più belle per una possibile vendita, più che un reale spirito conservativo. In effetti, molti dipinti furono successivamente inviati a Parigi sotto la cura del mercante d'arte Jean-Baptiste-Pierre Lebrun, marito della pittrice Elisabeth Vigée-Lebrun. Se i Terbrugghen fossero stati in questa spedizione non lo sappiamo, ma stando alle misure delle tele, queste furono arrotolate con la pellicola pittorica rigirata verso l'interno, e nel caso della
Negazione
questo procedimento sbagliato provocò dei danni alla pellicola pittorica. Ciò detto, le condizioni e l'aspetto della tela, in particolare nell'area delle figure e nella parte bassa della composizione, possono costituire un indizio in tal senso.
In realtà Benedetto Giustiniani aveva già commissionato lo stesso soggetto a Ludovico Carracci, per il quale l'artista impiegò un tempo considerevole nel 1607. Quest'opera si trovava nell'inventario stilato dopo la morte del cardinale nel 1621: «
un quadro di un san pietro quando fu interogato dall'ancilla nel Cortile d'herode
» (n. 140; Squarzina, I, p. 167). Il dipinto è correttamente descritto nell'inventario del 1638 (n. 55), ancora in quello del 1667, e nella
Pinacotheca, sive Romana Pictura et Scultura
di Giovanni Michele Silos nel 1673. Ciò significa che Benedetto aveva una particolare passione per questo soggetto, che deve aver commissionato a Ludovico subito dopo il suo arrivo a Bologna nel 1606. Potrebbe forse essere a causa di quest'incarico che l'artista scrive a Ferrante Carlo il 5 gennaio 1608, scusandosi per il ritardo nella consegna della grande tela per Piacenza, che sarebbe dovuta essere pronta già dall'agosto precedente. Nella lettera Ludovico spiega che il nuovo Legato di Bologna lo aveva incaricato di realizzare «
una certa opera, dove vi consumai molto tempo e lodato Dio è finita
». Anche la versione di Ludovico, ancora non rintracciata, aveva un formato verticale ed era molto più piccola di quella commissionata a Terbrugghen. Si trattava però, da quello che possiamo capire dalle descrizioni, di una scena notturna, con un fuoco presso il quale Pietro si scaldava e con un ruolo centrale dato all'ancella, che era la portiera che aveva aveva aperto le porte del tempio dove Caifa era Sommo Sacerdote. La scena del fuoco è menzionata sia in Luca (22:55) che in Giovanni (18:25) e farebbe pensare in maniera accattivante che dietro alla scelta della
Negazione
ci fosse Benedetto Giustiniani che probabilmente incoraggiò anche l'idea dell'uso degli effetti della luce che molti artisti dopo Terbrugghen avrebbero seguito, da Baburen, Honthorst e Stomer a Gerard Seghers e Jan van Bijlert.
Come abbiamo già visto, in Italia Terbrugghen si firmava 'Flam°', non deve quindi sorprendere se Vincenzo Giustiniani, nell'inventario del 1638, si riferisce a lui come a Enrico d'Anversa. Malgrado questa ipotesi non sia mai stata confermata, stante l'alta ricorrenza di questo nome nella Roma del Seicento, Vincenzo cita nuovamente l'artista nel suo
Discorso supra la pittura
scritto negli anni '30, quando riferendosi all'undicesimo dipinto dice che «
è di dipingere con avere gli oggetti naturali d'avanti. S'avverta però che non basta fare il semplice ritratto, ma è necessario che sia fatto il lavoro con buon disegno, e con buoni e proportionati contorni, e vago colorito e proprio, che dipende dalla pratica di saper maneggiare i colori, e quasi d'istinto di natura, e grazia a pochi conceduta; e soprattutto von saper dare il lume conveniente al colore di ciascheduna parte, e che i sudici non sieno crude, la fatti con dolcezza ed unione; distinti però le parti oscure, e le illuminate in modo che l'occhio resti soddisfatto dell'unione del chiaro e scuro senza alterazione del proprio colore, e senza pregiudicare allo spirito che si deve alla pittura, come ai tempi nostri, lasciando gli antichi, hanno dipinto il Rubens, Gris Spagnuolo, Gherardo, Enrico, Teodoro, ed altri simili, la maggior parte Fiamminghi esercitati in Roma, che hanno saputo ben colorire»
. Sembra che Vincenzo stia descrivendo proprio le qualità stilistiche che aveva visto nella
Negazione
, e che questo tipo di pittura dal vero era praticata particolarmente dagli artisti che menziona, e che venivano prevalentemente dalle Fiandre. I nomi a cui si riferisce, a parte Rubens che non è presente negli inventari Giustiniani, sono della generazione di quelli sponsorizzati da suo fratello. Ribera (Lo Spagnoletto), nel suo soggiorno romano dal 1612 al 1617, realizzò più di una dozzina di dipinti. Honthorst, a Roma anche prima del 1615, dipinse
Cristo davanti al Sommo Sacerdote
, ora alla National Gallery di Londra, una tela grande, che evidentemente deve essere inserita nella stessa serie di quelle di Terbrugghen, e che Vincenzo chiamava
Cristo davanti a Caifa
. Datato intorno al 1617, il dipinto è un esempio specifico dell'impegno di inserire nel testo l'osservazione diretta della realtà che caratterizzò questo particolare momento di revival caravaggesco, evidentemente sostenuto da Benedetto Giustiniani. Per il cardinale, Honthorst dipinse la
Liberazione di san Pietro
, ora a Berlino (una tela più piccola, cm 130x181), mentre Teodoro, che è Dirck van Baburen, ma conosciuto in Italia con quel nome, dipinse la grande sovrapporta raffigurante la
Lavanda dei piedi
[Giovanni, 13: 1-17], ora a Berlino, cm 199x297. Quindi le due tele di Terbrugghen costituirono le prime di una serie dalle dimensioni eccezionali, circa tre metri per due, che Benedetto commissionò alla nuova generazione di artisti che erano desiderosi di seguire le orme di Ciriaco Mattei, per il quale Caravaggio realizzò alcuni dei soggetti principali della fede cristiana: la
Cattura di Cristo
e la
Cena in Emmaus
. Un altro dipinto della stessa serie potrebbe essere stato eseguito da Carlo Saraceni che fece un
Cristo e due Apostoli nella strada per Emmaus
(12x8 palmi, cm 270x180), come il soggetto di Caravaggio che molto presto raggiunse la collezione di Carlo I a Londra. Anche Vouet, a Roma dal 1613, dipinse un'
Annunciazione
(cm 290x193), perduta a Berlino nel 1945. Domenico Fiasella fu chiamato a palazzo Giustiniani per dipingere due episodi della vita di Cristo:
Cristo che cura il figlio della vedova di Nain
e il
Cristo che ridà la vista al cieco
, ora al Ringling Museum di Sarasota, dalle analoghe dimensioni (cm 275x178,5). Tutti questi dipinti sono evidentemente da mettere in relazione alla passione che Benedetto nutriva nell'illustrare episodi del Nuovo Testamento, utilizzando il ritrovato linguaggio realistico, anche se guardava con lo stesso interesse ai pittori bolognesi, specie dopo il suo soggiorno nella città emiliana.
Nell''Anticamera dell'appartamento grande del Cardinale
, Benedetto aveva la
Visitazione
di Antonio Carracci, un altro grande dipinto verticale (cm 270x160, perduto), menzionato da Malvasia, anche se Vincenzo si sbaglia ancora una volta attribuendolo ad Agostino ma spiegando che il dipinto non era stato completato a causa della malattia dell'artista, che lo portò alla morte precoce nel 1618. La grande serie degli Evangelisti fu invece commissionata a Domenichino per sostituire il
San Giovanni
, già presente nel suo inventario del 1621 al n. 86. Gli altri tre –
San Matteo
di Nicolas Regnier,
San Marco
di Francesco Albani e
San Luca
di Guido Reni – tutti perduti, sono presenti nell'inventario del 1638, e passarono sotto il
patronage
di Vincenzo dopo la morte del fratello.
Vincenzo, che ereditò il palazzo in Campo Marzio e la collezione quando morì suo fratello nel 1621, non era molto sicuro delle attribuzioni quando stilò l'inventario, ecco perché la sua cautela nello scrivere «
si crede di
» quando nomina gli autori. Ma Vincenzo seguì l'esempio di suo fratello nell'appoggiare artisti come Regnier e Valentin. La sua passione per il collezionismo era più portata però verso gli oggetti antichi, che avrebbe celebrato nell'elegante edizione della
Galleria Giustiniani
pubblicata nel 1634. Ad ereditare il palazzo di città era stato suo fratello, quando nel 1600 morì il padre Giuseppe, mentre Vincenzo ebbe la tenuta e il titolo di marchese di Bassano Romano. Malgrado si trovasse spesso a Roma, le sue direzioni artistiche erano indirizzate nella decorazione del Palazzo, dei giardini e della tenuta di caccia ai Castelli, così come nel desiderio di far crescere la sua giovane famiglia, i cui membri morirono tutti prima di lui. A Benedetto andò anche la Villa Giustiniani fuori Porta del Popolo, che all'inizio del XIX secolo fu incorporata in Villa Borghese. Il prelato aveva quindi spazio a sufficienza per appendere queste enormi tele di arte moderna, che potrebbero sembrare pale d'altare, ma in realtà furono commissionato per uso privato visto che le autorità ecclesiastiche, come fu per Caravaggio, erano spesso troppo conservative per accettare queste nuove tendenze iconografiche. Tra l'altro Benedetto aveva ereditato anche le risorse finanziarie per poter proseguire questo
patronage
, tanto che si diceva che avesse speso una fortuna per comprare arte. Questa è la ragione del cauto approccio di Vincenzo nell'attribuire i nomi degli autori alle opere commissionate da suo fratello, quali Saraceni, Vouet, i due Terbrugghen e due Honthorst che sono indicati come «
si crede di
». Mentre le opere di Regnier, Valentin e Spadarino, che erano stati presenti a Palazzo Giustiniani durante la sua reggenze sono, con chiara intento distintivo, furono attribuite senza dubbi o tentennamenti. Sandrart riferisce che
l'Amore Vincitore
di Caravaggio era appeso insieme a altri 120 dipinti in una sola stanza di Palazzo Giustiniani, aperta al pubblico, con l'idea sia di mostrare i veri fatti del Nuovo Testamento così come realmente accaduti sia di provocare un incredibile impatto emotivo agli occhi di tutti i visitatori. Non tutte le acquisizioni di Benedetto sono elencate nel suo inventario del 1621, che comprendeva 280 dipinti, e che la Squarzina riteneva si trovassero nella «
stanza dei quadri antichi
» o nella Galleria.
I due quadri fatti per il cardinal Benedetto da 'Enrico d'Anversa', dei quali la
Negazione di san Pietro
è ora tornato alla luce, furono dipinti in un periodo abbastanza breve, certamente prima del suo documentato passaggio a Milano nel 1614, durante il viaggio di rientro in Olanda dove si sarebbe sposato entro più o meno un anno. Il figlio Richard riteneva che il padre avesse speso dieci anni in Italia, e certamente fu in questo Paese che l'artista ebbe la sua formazione.
L'aver ora compreso che il gusto per l'arte moderna del cardinale, così come la sua volontà di far continuare il nuovo realismo nella rappresentazione delle scene bibliche, è un importante passo in avanti nel riconoscere il suo ruolo nello sponsorizzare il caravaggismo nella seconda decade del Seicento. Ciò va contro l'idea prevalente della generazione di Vincenzo, che comprende il suo curatore Sandrart e Bellori, Malvasia e Baldinucci, Passeri e Pio, che indica nel marchese il principale responsabile di tutte le importanti acquisizioni della collezione Giustiani. Tutti questi personaggi del resto erano molto più ossequiosi verso il marchese che verso il fratello, con il quale non avevano familiarità anche perché morì molto prima che questi salissero sulla scena. Queste evidenze inducono ad affermare che ad avere una relazione con Caravaggio fu piuttosto Benedetto: era suo il ritratto, suoi i Padri della Chiesa (Girolamo e Agostino), e sue le opere rifiutate all'artista, come la prima versione del
San Matteo
e probabilmente l'
Amore Vincitore
.
Benedetto rientrò a Roma dalla legatura a Bologna nell'autunno del 1611. Da questo momento si apre un nuovo capitolo nel suo
patronage
, chiamando a sé artisti che erano in grado di seguire il suo entusiasmo per il nuovo naturalismo del quale era un acceso ammiratore sin dai tempi in cui incontrò Caravaggio. L'artista morto, ma altri pittori potevano essere in grado di rispondere alla sua chiamata: e furono dei giovani che venivano dall'estero a farlo. Fu proprio allora che arrivarono a Roma, Ribera (1612 ?), Baburen (1612 ?), Vouet (1613), Vignon, Honthorst (1615 ?), seguiti da Valentin, e Jean Ducamps, nel 1620 all'incirca, e quindi Stomer. Cecco, che sembra essere stato il giovane assistente di Caravaggio, probabilmente iniziò a dipingere proprio in questo periodo, e sappiamo che Bartolomeo Manfredi realizzò la sua versione dello
Sdegno di Marte
, ora a Chicago, nel 1613 perché, come riferisce Mancini, non gli era stato concesso di copiare la celebre versione che Caravaggio aveva dipinto per il cardinal del Monte. Sembrerebbe che questo rinnovato interesse per il caravaggismo fosse spinto da qualche fattore esterno, e probabilmente il rientro a Roma del potente mecenate di Caravaggio sembrerebbe la spiegazione. In realtà, la
Negazione di san Pietro
fu forse inspirata in parte da un dipinto di Caravaggio giunto a Roma nel 1612. Questo grande dipinto, finora conosciuto da una replica al Metropolitan Museum, fu una vivace ispirazione che evidentemente spinse Terbrugghen a reinterpretare il soggetto per far capire quanto di Caravaggio avesse assorbito, senza però ripetere o copiare l'opera che aveva visto. Nello sfondo del dipinto c'è anche un'eco della
Cattura di Cristo
, l'altro celebre dipinto che Caravaggio aveva realizzato per Ciriaco Mattei. I due dipinti di Caravaggio includono anche delle fonti di luce artificiale: una lanterna nella
Cattura di Cristo
e la luce del fuoco scoppiettante nella
Negazione
. Questi elementi parlano del coinvolgimento del committente, che non soltanto si preoccupava della corretta interpretazione del passaggio biblico, ma anche degli effetti della luce e del colore, che suo fratello avrebbe più tardi spiegato nel
Discorso sulla Pittura
. Era dopo tutto non soltanto problematico rifare una copia precisa dell'opera ma anche un affrontare il disegno, comprendere le gradazioni di luci e ombre, le ombre corrette – come quando descrive i
sudici
(in italiano nel testo,
ndt
) - o le gradazioni di profondità delle ombre e la differente percezione dei colori al variazione delle luci. Benedetto era stato evidentemente conquistato dall'idea della luce artificiale nei dipinti, che divennero più familiari a Roma da quando pittori veneziani come Tintoretto e Bassano divennero più popolari, e naturalmente anche da quando in collezione apparvero le opere di Luca Cambiaso, maestro genovese della 'luce di candela'. Scene realizzate al lume di candele erano la caratteristica della collezione a partire perlomeno dal 1601. In realtà Caravaggio stesso aveva raramente utilizzato una fonte di luce che non fosse quella del giorno, eccezion fatta nelle
Sette Opere della Misericordia
. Certamente, non si può dire che in quest'opera l'interesse per la luce artificiale sia predominante, come lo è invece nelle opere di Honthorst, Baburen, Trophime Bigot, Spadarino, Gerard Seghers, e solo per citarne alcuni. Questa scelta linguistica ebbe particolare successo tra i pittori francesi e olandesi, da Valentin de Boulogne (si veda il suo esempio al Puskin di Mosca) a Gherard Seghers che ne fece una delle caratteristiche principali della sua produzione.
Terbrugghen deve aver dipinto le due tele tra il 1612 e l'inizio del 1614, e così succede che l'opera scoperta e mostrata per la prima volta alla mostra
Roma al tempo di Caravaggio
nel 2011, sia nondimeno firmata e datata al 1612, e rappresenti l'unico documento scritto della sua presenza in Italia. Uno dei misteri della sua carriera è che, benché la sua arte sia un chiaro riflesso della sua esperienza italiana, non ci sono documenti che ne attestino la sua reale presenza. Nella stessa mostra fu anche esposta una
Buona Ventura
che è un ulteriore prova dell'interesse di Terbrugghen per i temi secolari di Caravaggio. Giulio Mancini, scrivendo a suo fratello Deifebo il 7 giugno 1613, definisce questo soggetto come «
la più bella cosa che habbia fatto Michelangelo da Caravaggio […] una Zinghara
» e in un certo modo il ritorno di interesse per l'artista si concentrò questa volta nel colorato realismo dei suoi primi dipinti, ovvero di quella fase antecedente l'uso delle «
ombre finissime
» come le definì Bellori. In questo periodo anche Scipione Borghese iniziò a collezionare antiche rappresentazioni di zingare - anche nelle loro fantasiose ricostruzioni dello scultore francese Nicolas Cordier - per decorare la stanza che aveva dedicato a questo soggetto della sua Villa al Pincio. Questa potrebbe essere l'altra eredità del naturalismo caravaggesco recepito da Terbrugghen, che avrebbe avuto anche maggior successo una volta rientrato in Olanda, dove la pratica di singoli musicisti e bevitori, nei quali si era specializzato Baburen, avrebbe per sempre contraddistinto l'eco di questo nuovo naturalismo adottato dalle nuove generazioni di artisti. Sembra che già ci fosse una consapevolezza delle due linee del caravaggismo: una, finalizzata alla resa di ombre scure per enfatizzare il dramma della
azzione
(in italiano nel testo,
ndt
); l'altra, luminosa, colorata e anche caricaturale. Ambedue richiedevano però la sensibilità alla luce e al colore cui si riferiva Vincenzo Giustiniani e, per allargare la prospettiva, a cui rimandava il dibattito portato avanti tra il fratello Benedetto e molti di questi artisti fiamminghi.
Il dipinto ha un'iscrizione in lettere maiuscole proprio al centro della tela originale: aegiptia credul° div
x
enrico ter (
in ligature
) brugg° flam° pinxit ad mdcxii. Un rintelo dell'inizio del 1800 aveva nascosto l'iscrizione, tanto che non fu neanche vista quando il dipinto fece il suo ingresso al North Caroline Museum of Art di Raleigh, al quale era stato donato nel 1956. La scritta è venuta alla luce quando, durante un trasferimento dell'opera, un incidente rese necessario cambiare il supporto. Un caso analogo è successo alla
Buona Ventura
di Simon Vouet, di Palazzo Barberini. Durante il restauro dell'opera è venuta alla luce un'iscrizione con la data 1617, e rappresenterebbe il primo dipinto documentato dell'artista a Roma. Questa iscrizione è simile a un'altra che si trova nel retro di una tela già appartenuta a Cassiano dal Pozzo, in cui è scritto che l'opera fu ad vivum depicta, offrendo quindi un'idea precisa del sistema di lavoro di questi artisti che gravitavano intorno ai Giustiniani. Così come ricorda, qualche anno dopo Federico Borromeo: «
nei miei dì conobbi un dipintore in Rona, il quale era di sozzi costumi, et andava sempre co' panni stracciati, e lordi a meraviglia, e si vivea del continuo frà i garzoni delle cucine dei signori della Corte. Questo dipintore non fece mai altro, che buono fosse nella sua arte, salvo di rappresentare i tavernieri et i giocatori, ovvero le zingare che guardano la mano, ovvero i baronci, et i facchini, e gli sgratiati, che si dormivano la notte per le piazze, et era il più contento uomo del mondo, quando aveva dipinto un'osteria, e cola entro chi mangiasse e bevesse, Questi procedeva dai suoi costumi, i quali erano somiglianti a suoi lavori
». benché le vesti rattoppate dello
scugnizzo
(in italiano nel testo,
ndt
) nella
Buona Ventura
potrebbero ricordare questo passaggio, in realtà questa descrizione si adatta molto di più ai mendicanti e ai filosofi di Ribera, dove a dare lustro a questi soggetti è la luce brillante delle pieghe e l'incredibile sofisticatezza dei colori. Il fuoco sotto il calderone è una caratteristica che lega il dipinto alla
Negazione
, dove la fiamma che scalda Pietro manda una luce che selettivamente descrive gli abiti dei protagonisti. Per contrasto è usata la luce del giorno, con un'articolazione più forte, più fiamminga, così come il viso della cortigiana è molto vicino alle facce dipinte da Baburen. Del resto questi era appena arrivato a Roma e i due probabilmente furono più a stretto contatto in quell'occasione di quanto non lo sarebbero stati quando condivisero lo studio una volta rientrato a Utrecht nel 1620. Ma il paesaggio sullo sfondo, che ha anche caratteristiche fiamminghe, è vicino anche a quelli dipinti da Saraceni, altro elemento che conferma la formazione italiana di Terbrugghen.
La composizione non è affatto dipendente dall'originale di Caravaggio. La figura singola del musicista è solo superficialmente vicina all'esempio originale del
Suonatore di Liuto
e ai
Musici
del Metropolitan. Questo dimostra che Caravaggio introdusse degli esempi che potevano essere liberamente interpretati dagli artisti, permettendo loro di staccarsi dalla consuetudine dei metodi di lavoro presenti negli atelier contemporanei. D'altro canto, la
Buona Ventura
riecheggia una stampa dell'inizio del XVII secolo (così come una versione dipinta alla Galleria Pallavicini), in cui sono presenti gli stessi quattro personaggi, e che era dedicata al Cavalier d'Arpino, visto la dedica che menziona la sua carica di Cavaliere, ricevuta da Clemente VIII nel 1600. Non c'è nessuna ragione di credere che non poteva essere stata usata più tardi, come dimostra una lettura superficiale dell'opera di Terbrugghen. Il monogramma che appare due volte non è stato identificato, ma a me sembra non ci siano dubbi che si tratti di Francesco Villamena (Assisi, 1584 - Roma, 1624), che eseguì sia stampe con scene della vita popolare romana, sia dipinti con lo stesso soggetto. Lo sfondo grafico del dipinto è simile a quello della stampa, e i raggi a infrarosso hanno mostrato che l'artista insistette a lungo sulla realizzazione delle figure, come dimostra il cavaliere che prima doveva essere sulla destra e un'altra figura che guarda dalla parte opposta del centro (il piede è un ovvio
pentimento
vicino al piede destro del cavaliere). La caratteristica olandese è certamente sua, così come si vede in un'incisione ricavata da un presunto autoritratto che Bodart incise nel 1608 per Richard Terbrugghen. Il cadente cappello piumato deriva dall'esempio dei
Giocatori di carte
– che allora ancora apparteneva al cardinal Del Monte – ed è un elemento tipico della cultura italiana. Esiste un certo gruppo di figure come il Cavaliere, e per esempio il carnefice nella
Decollazione di santa Caterina
del Chrysler Museum, e il frammento della
Decollazione del Battista
della National Gallery di Edimburgo. Queste opere sono difficili da datare, benché siano siano state inserite nel suo catalogo tra quelle degli anni '20, anche se potrebbero essere state eseguite in precedenza. Benché siano più sofisticate della
Buona ventura
, è un comune denominatore l'abilità di rappresentare i panneggi in veri e propri raffinati passaggi di pieghe. Il cavaliere sulla destra in
Muzio Scevola di fronte a Porsenna
è uno dei confronti più vicini e, in un'opera che ha molto del
chiaroscuro
(in italiano nel testo,
ndt
) della
Negazione
, dimostra che questa potrebbe proprio essere un'opera italiana. Il profondo scorcio del segretario morto di Porsenna è un luogo comune tra molti artisti di questo periodo, da Antonio Carracci a Louis Finson.
La recente mostra su Saraceni a Roma ha chiarito quanto l'artista maturò in questa cultura intorno alle maggiori committenze che Benedetto Giustiniani diede agli artisti del circolo fiammingo, che avevano fatto parte del suo studio o accademia. Se lo stile più
staccato
(in italiano nel testo,
ndt
), questo stile caratterizzato da un colorismo frizzante di alcuni dipinti di narrazione di Terbrugghen, sembra provenire da questo retroterra culturale.
Varrà veramente la pena rincorrere questa idea su come Terbrugghen abbia gestito le singole caratteristiche della pittura italiana, che ora conosciamo, per vedere se il ricco colorito e i profili del
Il corpo di
santo Stefano compianto dai santi Nicodemo e san Gamaliele
(Boston, Museum of Fine Art; mostra di Saraceni, n. 59) non siano usciti dalla sua mano.
C'è poi il mistero del 'Pensionante': la sottigliezza della risposta di Terbrugghen alla
Negazione
alla richiesta dei Giustiniani dell'intuitiva abilità dei pittori (fiamminghi) di catturare la realtà degli oggetti posti di fronte a loro, della luce appropriata e del colore che cambia a secondo del variare del chiaroscuro (in italiano nel testo,
ndt
), fu certamente all'altezza del compito.
Sarebbe certamente interessante se trovassimo che fu un eccellente colorista in Italia e che avesse cambiato direzione una volta rientrato in Olanda. Ma sarà da avere chiaro che fu l'entusiasmo di Benedetto Giustiniani per la pittura 'dal vero' che diede a questi artisti l'incentivo a lavorare con questo nuovo stile.
Esiste quindi una continuità tra uno dei primissimi committenti di Caravaggio e la successiva generazione dei suoi seguaci.